Buried in the news of the Kim Jong-Il's death yesterday and the immediacy of associated diplomacy was the passing of Czech playwright, national leader and savior/hero,
Vaclav Havel
, who gave the world the Velvet Revolution of 1989. After having been jailed numerous times by the Soviet puppet regime, he eventually became a great leader:
More so than any of the prominent figures from the period of anti-communist dissent, Havel used his position, voice and moral authority to advance present-day struggles for freedom. If he looked backward at all, it was only to find lessons from his own experience that might be useful for freedom-fighters today. Communicating those lessons, he once wrote to the Cuban dissident Oswaldo Paya, was a way of repaying a debt to those who helped him in his own time of need.

He found many ways to repay that debt. In 1991, at a moment when he himself might have received the Nobel Peace Prize for leading the Velvet Revolution, he campaigned successfully for it to be awarded to Burmese activist Aung San Suu Kyi and remained a steadfast supporter of the Burmese democracy movement. He termed Alexander Lukashenko's regime in Belarus "the disgrace of Europe" and extended moral and practical solidarity to the opposition there. He developed a deep connection with Paya's Varela Project,which pressed for free elections and other basic rights in Cuba; and he established the International Committee for Democracy in Cuba, recruiting to it ex-presidents, members of parliament and distinguished writers from throughout Latin America and Europe. He co-authored a report applying the "responsibility to protect" doctrine to the totalitarian system in North Korea, And he led the successful international campaign to give the Chinese writer Liu Xiaobo the Nobel Peace Prize, launching it with an open letter to Chinese President Hu Jintao demanding Liu's release from prison. The letter was delivered on Jan. 6, 2010, the 33rd anniversary of the day Havel himself was arrested for delivering the democracy manifesto Charter 77 to the Prague Castle.
This is the opposite of Kim Jong-Il, selfless rather than selfish. While artists sometimes turn leader with disastrous results, i.e. painter Adolph Hitler, Havel proved to be
the right artist
to lead his country into freedom.
Best of all, he had awesome taste in popular music, starting with his favorite and friend, Frank Zappa:
Not to mention Lou Reed and The Velvet Underground (like the Velvet Revolution):
And then, of course: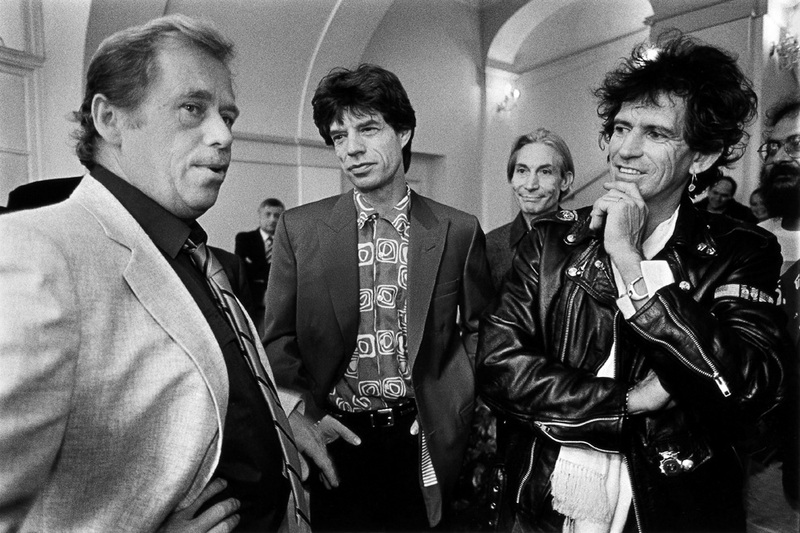 A better leader to remember. Keep on rocking in the free world, Vaclav, wherever you are.